Which hero pictured has save more lives?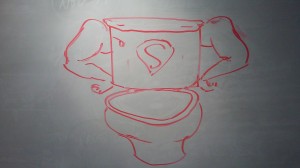 If your answer is…. the toilet, you are absolutely right!
Once upon a time, long, long ago, the modern flush toilet was invented. Then it was perfected, and widely distributed in Europe and America in the 19th and early 20th century. This was a boon to those economies because it addressed a hygiene problem that threatened the future of the Industrial Revolution! With the advent of the industrial ecoomy, poor sanitation had to be overcome. It was the number one cause of disease and death for expanding urban centers. Separating human waste from dwellings and the living environment in densely populated areas was not just desirable, it was imperative!
Without cities, large factories could not be staffed. Without healthy employees, factories could not operate. What we now call "progress" was at stake. The smell, the disease, the polluted streets and open cesspools were eliminated by this amazing appliance! It can be argued that the computer, Internet, and even the iPhone was built on top of the humble toilet!
Yes! Superman and Wonder Woman cannot boast more saved lives than our humble hero! And yet, today we take the life-saving benefits of the toilet for granted. And, even worse, it has become a focal point for gender dis-harmony and family discord: The Toilet Seat War!
Return of the Humble Hero!
LidFlush, Inc. (patent pending) intends to right that wrong by ending the war! Our product returns our humble hero to the deserved praise of all of us who have benefited from the most life-saving appliance of all time! When LidFlush is installed on gravity flush toilets, men and women (and children) enter their bathroom to find the lid down on the toilet, AS IT WAS ALWAYS INTENDED! Seeing that, the family can be confident that the bathroom has become a gender "neutral" space. Importantly, with a lid-down flush, the family will share an even MORE hygienic space than before because the "aerosol effect" (or, "toilet sneeze") from every lidded-flush has been suppressed. That keeps the bathroom up to 10 times less contaminated by pathogens!
The vision and mission of LidFlush is the same! Bringing harmony and hygiene together for health! And, like the hero that inspires us, we work passionately toward making it a happy ending for everyone, everywhere!
BTW, links below show what the world looks like without the Humble Hero! Check it out….if you DARE!
http://www.forbes.com/sites/jonspringer/2014/11/18/why-world-toilet-day-should-matter-to-you/
http://worldtoilet.org/
http://www.imdb.com/title/tt3901978/
http://rt.com/news/206767-water-faeces-contaminated-people/